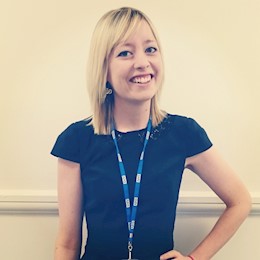 Human Resources Scheme
Transformation Project Manager
What programme were you on when you joined the GMTS and when did you leave?
I joined the NHS Graduate Management Training Scheme, specialising in Human Resources in 2012 and graduated in 2014.
What has been your career journey progression with the NHS?
This was my first job within the NHS and my first placement was spent at Lancashire Teaching Hospitals NHS FT as a HR Advisor for the Surgical Division. I then moved on to spending two months at my flexi-placement with the NHS North West Leadership Academy as a Leadership Development Manager, before completing the graduate scheme with a final placement as Organisational Development Coordinator at Central Manchester University Hospitals NHS FT.
On finishing the scheme, I continued working at Central Manchester but in a joint role between Organisational Development and Transformation. After six months in this role, I moved over to working full-time in Transformation, securing my first permanent position as a Project Manager. Within this role, I am responsible for delivering and driving large scale change across the Trust, leading on projects to improve quality and patient flow. I also ensure smaller change projects throughout the Trust are shared and celebrated; encouraging innovation and creative thinking.
What advice would you give to someone thinking about joining the scheme?
In my line of work I get to see and hear about some fantastic projects staff are undertaking to improve the service we provide, and it's inspiring to see the lengths our staff will go to to make things better for patients. During my time at Central Manchester, I have been lucky enough to lead on two consecutive staff recognition events called the "We're Proud of You Awards". Here, staff are nominated by their colleagues for their hard work and dedication throughout the year, and the winners are invited to a gala dinner. It is at this dinner I have been "wowed" by the amazing work some of our frontline staff do to make sure patients get the possible care whilst in our care. It is so important staff feel appreciated and these awards ensure that hard work and dedication to patient care is celebrated.
What has been your defining moment so far working for the NHS?
My advice for anyone considering applying for the NHS GMTS is just DO IT! It's hard work and it was a massive learning curve for me, but I'm in a job I love and which I feel makes a difference. I studied English and Drama at University, so never thought I'd end up in this kind of role, however being on the graduate scheme gives you such an amazing opportunity to branch out of your comfort zone and try something different!