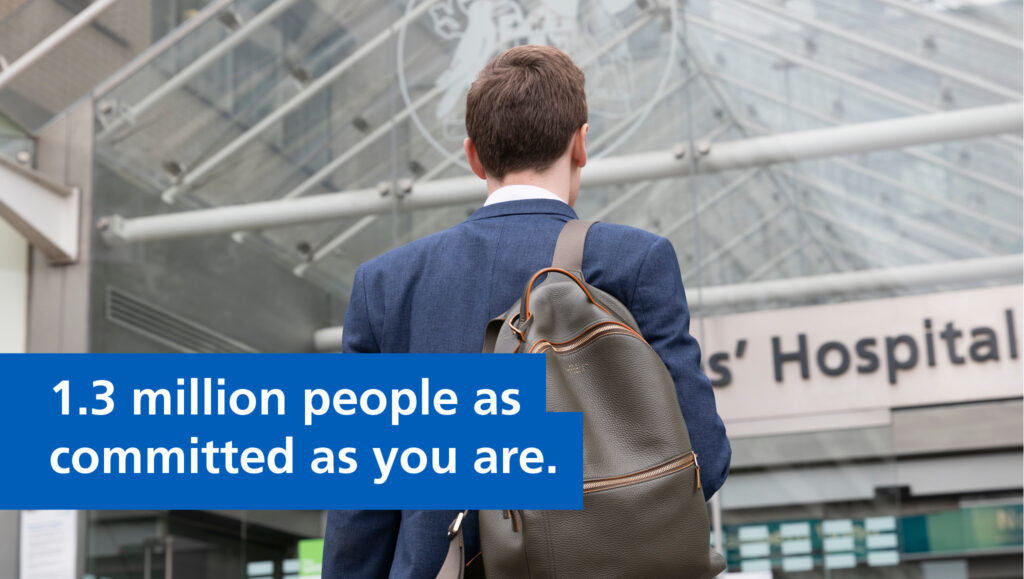 The NHS Graduate Management Trainee Scheme supports trainees to develop the skills and capability to become leaders across the NHS. It is an intensive and challenging programme, combining high-value work, active learning and ongoing study – but you'll also enjoy a rewarding start to your leadership career.
Pay and benefits have been carefully structured to give our trainees a great start to their NHS leadership journey. As well as a competitive starting salary, trainees enjoy a range of other benefits.
Pay & benefits
Competitive salary
You'll receive a starting salary of £25,368 from September 2022, plus the Higher Cost of Living Allowance (HICA) where applicable. All trainees can qualify for a 5% increase after 12 months, with finance trainees able to qualify for a further 5% increase after 24 months, subject to performance.
Holiday
27 days + eight bank and public holidays.
Capped annual leave protection is also available for eligible NHS in-service staff too.
Fully financially supported study package
You'll study for at least one professional qualification during your scheme. There are no academic costs to trainees, the qualifications are fully funded. Many trainees are also able to negotiate short periods of study leave with their placement managers, in addition their 27 days annual leave.
Exceptional learning opportunities
As well as the experience you gain on your placements and the academic study you'll undertake for your post-graduate qualifications, our trainees benefit from 'Action Learning' and 'Experiential Learning' sessions. Action Learning helps you to look at how you develop through your own experiences, actions and insights. Experiential Learning enables you to learn through the application of scenario based activity, simulations and other interactive events. Throughout, there is the chance to learn from experts and leaders from all over the NHS at trainee events and through professional networking.
"I LOVE doing the experiential learnings! They are fun and interactive practical learning sessions which do test you as a person and encourage you to be slightly vulnerable in order to grow. You might be asked to present to a group and be questioned hard on it; be given a task to manage in a short space of time; be highly reflective; be put on the spot; do various personality and insight 'tests'; watch role plays of difficult situations. I feel humbled to get such a vivid and expensive learning experience." Priam, HR trainee
Pension
We will automatically enrol you onto the NHS' highly regarded pension scheme when you start with us in September 2022. The amount you contribute to your pension is based on your pensionable earnings and you can opt-out of the scheme if you wish.
Financial discounts
From the day you start, you will have access to an exclusive NHS Staff website offering discounts and savings on a range of products, services and leisure activities. Your placement organisations might also offer local discounts.
Sports clubs
Sports clubs have always been part of life for NHS leaders. Whichever part of the country you work in, you're sure to find a team or a sports club that's right for you.
Network
A crucial benefit of the programme is the network you are part of – not only other trainees, but experts and leaders, HR and learning professionals, and other key stakeholders in the programme. This provides a great opportunity to share insights and learn from each other, and gain knowledge about the wider organisation.
Capped salary protection for NHS in-service staff
If you're a current NHS in-service staff member, you may be eligible for pay protection. Protection is up to 85% of the top of Band 6, based on your average basic salary over 3 months prior to starting the Scheme. This excludes HICA (Higher Cost of Living Allowance – which may be added on top of your salary depending on which region you are working in, e.g. parts of London) or any other allowances.
Interest-free season-ticket loan
If you have expensive travel costs each year to get to work, we can help you spread the cost with an interest-free loan. Buying a season ticket in advance also reduces your cost-per-journey significantly. We'll provide you with the total amount for your season ticket and then deduct monthly payments directly from your net pay.
Pay & Benefits FAQs
How much am I paid on the GMTS?

Starting salaries will be £25,368 p.a. (plus location allowance where applicable). For current NHS in-service staff there's an option for capped salary protection up to 85% of Agenda for Change Band 6 (conditions apply). Further information is available on request.
What salary can I expect to earn after the GMTS?

The average salary on leaving the GMTS is £40,000. You can expect possible future earnings of up to £90,000 as a Director or £100,000+ as an NHS Chief Executive.