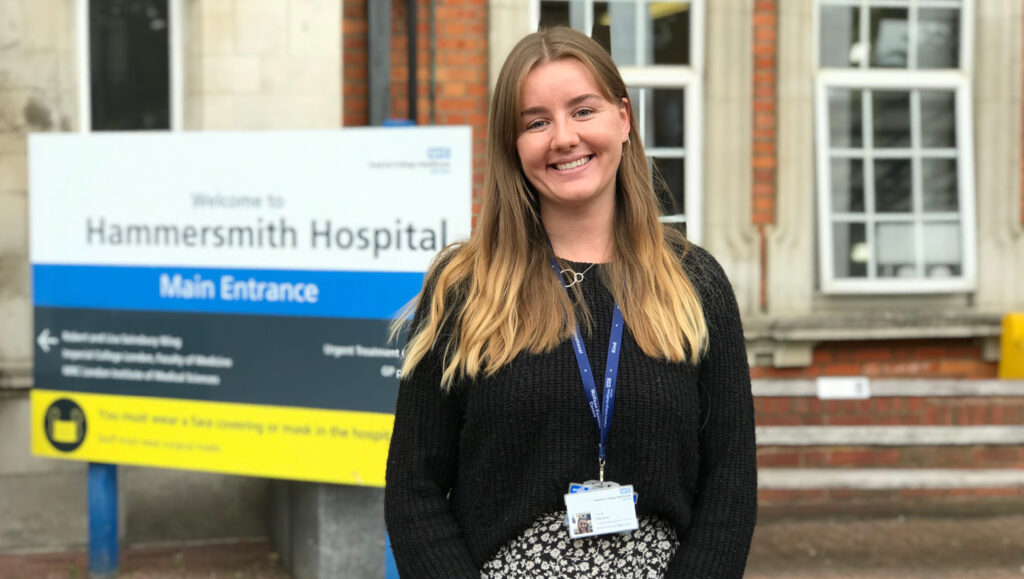 NHS Employees
The NHS Graduate Management Training Scheme (GMTS) is open to current NHS employees, known as 'in-service' trainees.
We welcome applications from qualifying NHS staff, recognising that in-service trainees have experience they can use and develop on the Scheme. In-service trainees can provide valuable feedback to colleagues and peers, on how healthcare services work in practice.
Same process, same Scheme
Everyone applying must meet the same Scheme eligibility criteria – including academic qualifications and right to work in the UK – as all other candidates. There are no exceptions for candidates already working in the NHS. Academic study is a key component of the Scheme.
The NHS Graduate Management Training Scheme runs events for in-service staff, where you can find out more about the Scheme and talk to current trainees about their experience. Contact your HR team or check our social media platforms to find out more.
Applying for GMTS is the same process for all candidates, including NHS in-service staff, at every stage. You will be treated and supported in the same way during the selection process and if successful, on your GMTS journey.
The Differences
As current NHS employees, all in-service trainees benefit from protected terms in their existing contracts. This means we will protect a level of in-service staff salaries and annual leave. In-service candidates also benefit from protected pension terms.
Choice of locations
Like all applicants, NHS In-service staff can choose up to three preferred locations when applying to the Scheme. However, we recognise that some colleagues are unable to move away from the area in which they currently live and work. As with applications from all candidates, you are given the opportunity to state personal circumstances that mean you are unable to work flexibly across a region in your application form. We are unable to guarantee that a place will be offered in your preferred region. More information, including personal circumstances we will consider, can be found in Locations [link to /scheme/locations].
Terms of Employment
NHS In-service candidates must resign their current role to take up a GMTS placement or arrange a secondment. GMTS is unable to support secondment applications, these must be arranged by you at your employers' discretion. Secondments are arranged on locally agreed terms with your current NHS employer and should be confirmed in writing before any GMTS offer is made final.
What do you mean by 'NHS in-service staff'?

NHS employees on a permanent contract, currently working within the NHS in any role
I currently work for the NHS and want to join the GMTS scheme. Do I need a degree, or will you recognise an equivalent qualification?

Yes. The entry requirements and assessment process are the same for all applicants.
What Terms and Conditions will NHS in-service GMTS trainees be employed on?

You'll be employed on Agenda for Change (AfC) terms and conditions during your time on the GMTS (except for pay). All service is reckonable in line with the AfC terms and conditions.
I have an NHS pension from my existing role. What happens when I join the scheme?

You'll be automatically enrolled into the NHS pension scheme unless you decide to opt out. If you're transferring from another NHS employer and you're already part of the pension scheme you won't need to do anything as your pension will automatically transfer.
I am a current NHS employee and my earnings are over the GMTS entry salary. Will my pay be protected?

Trainee salary is £25,368. You may be eligible for pay protection if you are a current NHS in-service staff member.

Protection is up to a maximum of 85% of the top of Band 6, based on your average basic salary over three months prior to starting the scheme (excluding high cost area supplement or any other allowances). We are unable to make exceptions and will only be able to offer protection up  to 85% of the top of Band 6.
What will my annual leave entitlement be when I join the scheme, and will my previous service be considered for this?

While on the NHS GMTS you will be entitled to the annual leave entitlement as laid out by the Agenda for Change (AfC) contract. Details can be found at NHS Employers website.

Leave entitlement is linked to length of service and the table below outlines leave entitlements:

If you're currently an NHS in-service employee, you should indicate this when you apply as your reckonable service may be considered. This will be managed as part of the employment process.

As part of the pre-employment checks, an Inter-Authority Transfer (IAT) will be run through the Electronic Staff Record (ESR) to determine confirmation of recognised service. Read more information about continuity of service at the NHS Employers website.
Will I need to leave my current role to take a place on the NHS Graduate Management Training Scheme?

Yes, you'll need to leave your current role to join the Scheme. It's not possible to complete the Scheme and have a secondary role in the NHS, due the commitment you will be required to make for work, training and study.

Your current employer may consider seconding you to the Scheme. This is at the discretion of each local employer and you must discuss this with them prior to making your application.

Secondment policies vary across NHS organisations and cannot be influenced by the Scheme. Applicants are responsible for the arrangement of these agreements.

We welcome candidates who have an approved secondment agreement in place. This must be agreed in writing with your employer ahead of any Scheme offer being made. You will need to notify us at the assessment centre stage if you have an approved secondment agreement in place

If you don't have a secondment agreement, you'll need to resign your substantive NHS post. You'll be issued a 24-month contract (30 months for Finance trainees) with the Business Services Authority (BSA) as your employing organisation on behalf of GMTS